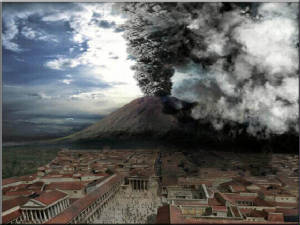 Castra Romana XIII: Remembering Pompeii
On August 24, 832 (79 AD) Mt Vesuvius erupted and buried the Roman city of Pompeii killing thousands of Roman citizens, slaves, gladiators, merchants, and loving pets. After 1700 years the city was rediscovered and was excavated by many important figures throughout history. For the thirteenth Castra Romana we will remember, honor, and celebrate the city that was Pompeii.
The event will feature Roman soldiers, Gladiators, Civilians, Barbarians, period craftsman, and even a real eruption from a volcano! It is sure to be a thrill for all, spectator and re-enactor alike. It is hosted by South Carolina's only Roman Legion, Legion VI FFC.
Fees:
$2 park entry - $5 donation to Castra Romana - $10 Centurio's Convivium
Got Ideas for CASTRA???
Now is the time to mention them! If you have an idea to improve Castra Romana, or would like to add an impression, join the legion, or would like a chance to showcase your period art, goods, or wares, contact us as soon as possible! We are open to any ideas you may have. Contact us today!!