Castra Romana XI, The Roman Army Festival of 2012 will be the Eleventh annual Roman Imperial Army Living History Festival hosted in South Carolina. The event features the soldiers of Imperial Rome, a scattering of civilians, and period craftsmen, an promises to be an educational gold mine for the re-enactor and members of the public. Hosted by South Carolina's only group of Roman Soldiers, Legio VI (www.legvi.com) and Soul of the Warrior (www.soulofthewarrior.com) the event has drawn rave reviews from those who have attended it. While some after hours events are closed to the public, the majority of our drill demos and craftsmen are viewable during daylight hours and intended for the public. Come out and see the Glory that was Rome! We are always looking for persons interested in joining the Legion, either as a soldier, Gladiator, craftsman, or civilian, whatever your interest may be. If you are fascinated by what you see, contact the Legion at justuslonginus@aol.com. We have extra armor to let you try it out before you spend any money, or if you want to join our Romans in Training Program!
Please Note: Best time for the public to attend is Saturday from 10 am to 4 pm.
Castra Romana XI
Participants Onsite Nov 9-11, 2012
Public Demonstrations Saturday, 10 Nov.
Givhans Ferry State Park,
746 Givhans Ferry Road
Ridgeville, South Carolina 29472
Park Phone Number: (843) 873-0692
Event Organizer: Rusty Myers
Legio VI FFC Principia:
104 Hunters Wood Dr. Summerville SC 29485 USA
Event Contact Phone: (843).437.5587
Email: JustusLonginus@aol.com
On the web: www.CastraRomana.com
The Legion Homepage: www.LEGVI.com
Corporate host: www.SouloftheWarrior.com
Food Coordinator: mstewart@atnex.net
Yahoo Group: http://groups.yahoo.com/group/CastraRomana/
Facebook: http://www.facebook.com/pages/Ridgeville-SC/Castra-Romana-Festival-of-Imperial-Rome/168581268796?ref=ts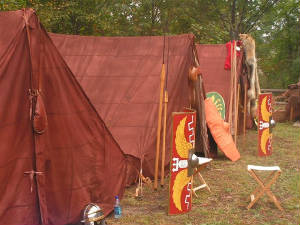 Got Ideas for CASTRA???
Now is the time to mention them! If you have an idea to improve Castra Romana, or would like to add an impression, join the legion, or would like a chance to showcase your period art, goods, or wares, contact the Centurio at
justuslonginus@aol.com
as soon as possible. We are open to any ideas you may have. Contact us today!!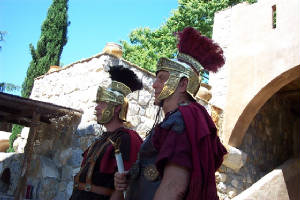 ROME DID NOT HAVE AN ARMY.
ROME WAS AN ARMY.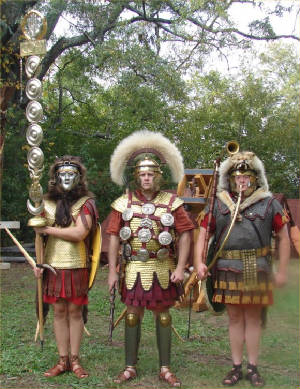 SCIWay- South Carolina's Front Door For information on SC Events
Festival.com, the list of festivals around the world!
Thanks for visiting our site. We'd love to have you attend, and love it even more if you would join us on our Journey to discover Rome!
Visit Our Related Websites:

Visit the Castra Romana Facebook page! Become a Fan, Add your Photos, Videos, and Thoughts!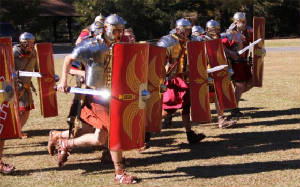 MEET THE BEAST and its Son???!!!
The new Legio VI Catapulta will be onsite and in action Constructed by Leg VI Chief Engineer Kent Nilsson, the Beast made its debut at Kennesaw. New for 2011! Meet Lupilla! Yet another Artillery Creation of our Chief Engineer!!!!
JOIN US!!
Been to Castra for two or three years now?
Are you at Least 15, with an adventurous Parent??
Ready to take your studies to a new level???
Join us for Castra by participating!!
You will learn more by being in the show than by just watching. Fall into the ranks as a Roman Soldier. Dress as a Roman Civilian. Become one of the unkempt Barbarians! We are looking for folks willing to be part of Castra and Legio VI. Be sure to check our "Romans in Training" Page, and Pages on dressing out Roman.
Help us make Castra the most unforgettable experience you have ever had!!
CONFESSION OF JUSTUS
A Tale of the Christ will be presented at 11AM.
Visit our ministry Website
Photos from past Castra Romanas and Leg VI Events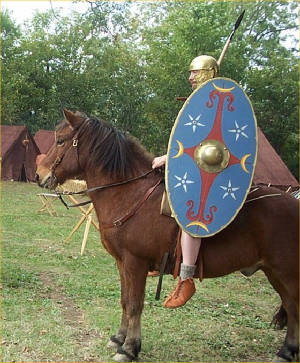 LEGIO VI
Ferrata Fidelas Constans
Visit the Homepage of Leg VI
South Carolina's Only Roman Legion!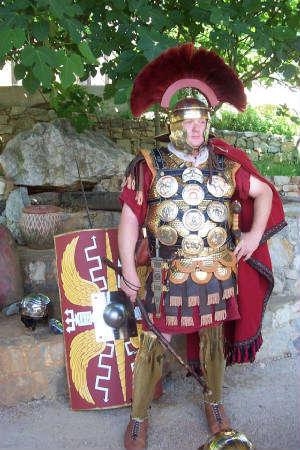 Legio VI Ferrata Fidelas Constans
The Iron Legion. Loyal and Faithful.
CASTRA ROMANA X
A Living History Festival of Imperial Rome
November 10-13, 2011
Public Displays on Saturday Nov. 12, 10 am to 4 pm only
Givhans Ferry State Park
746 Givhans Ferry Road, Ridgeville, South Carolina 29472
Event Contact Phone: (843) 437-5587 (For Event Info)
Park Phone Number: (843) 873-0692 (For Park Info)
Event Planner and Organizer: JustusLonginus@aol.com

On The Web:

www.CastraRomana.com

www.SouloftheWarrior.net or .com

Visit the Sixth Legion Homepage: www.LEGVI.com

Join our Yahoo group for updates!