Visit the Shop!
A virtual tour of the SOTW Workshop!
"Where the magic happens!"
Welcome to SOTW!!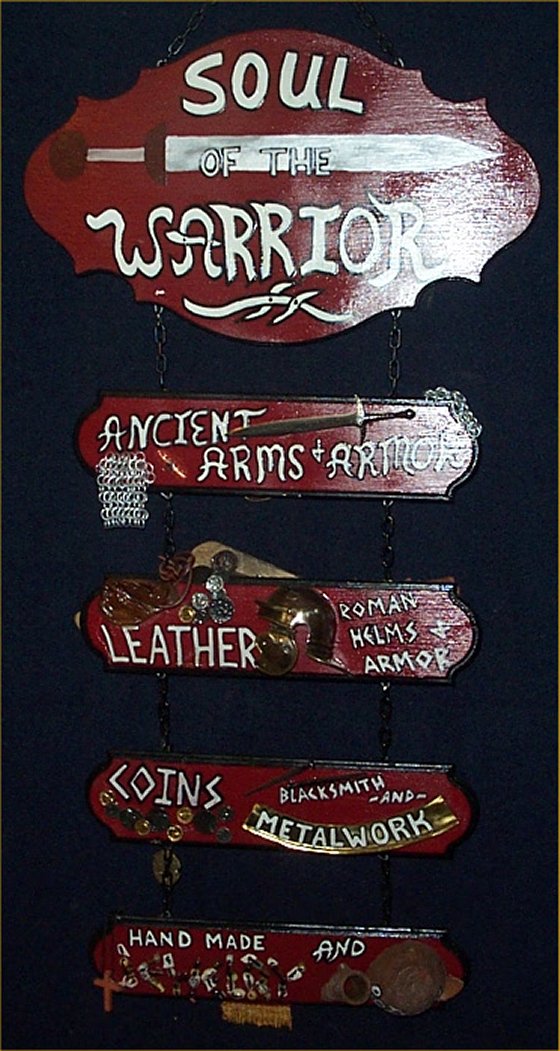 Welcome to Soul of the Warrior!!
This is a virtual tour of the SOTW facilities. Ellen insists that I tell you the shop was a mess as we had been working for a few days, and thinks I am going to retake these when it is pretty...
It starts out clean, but a messy shop is the sign of work happening! We'll start out in Flavia's Pottery and Jewelry shop. You will see that the walls are painted and pretty, as opposed to the main shop, where they are just white!
Lady Flavia in the Penalty Box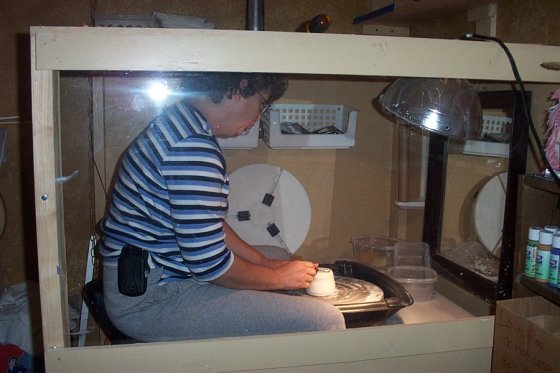 Clay working station in Ellen's shop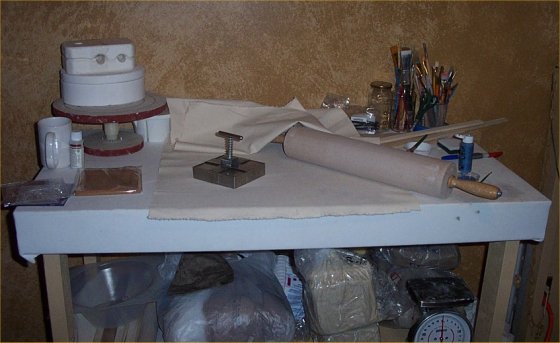 Clay storage and such, as well as prep areas
Flavia's jewelry creating station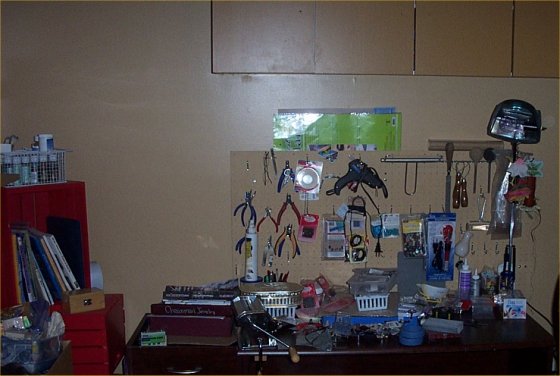 The "Penalty" Box... or pottery wheel.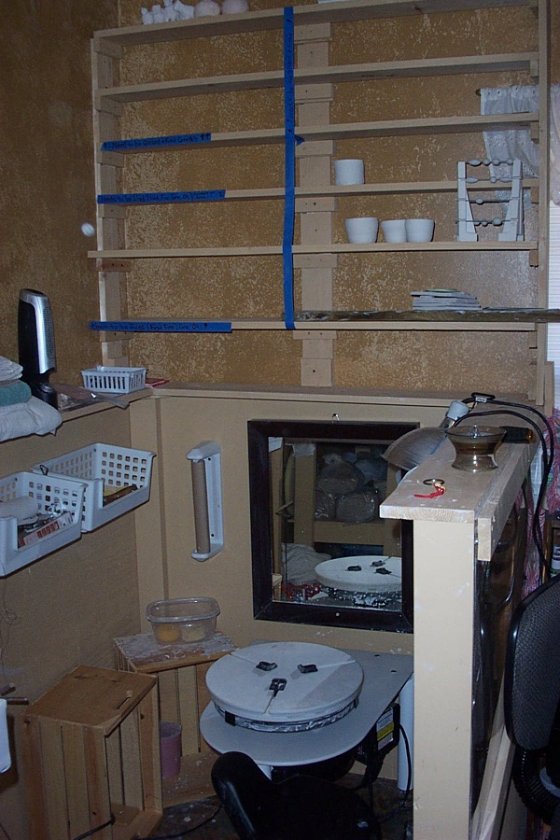 She was worried that she looked rough...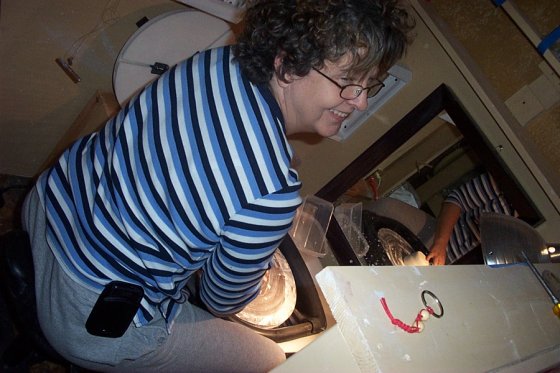 I mean do you wear a dress and makeup on a pottery wheel?
In the photo below, I locate incriminating evidence implicating the Lady Flavia in not putting up the tape gun that went missing and has been replaced... I should have known...
hmmm... My missing tape gun...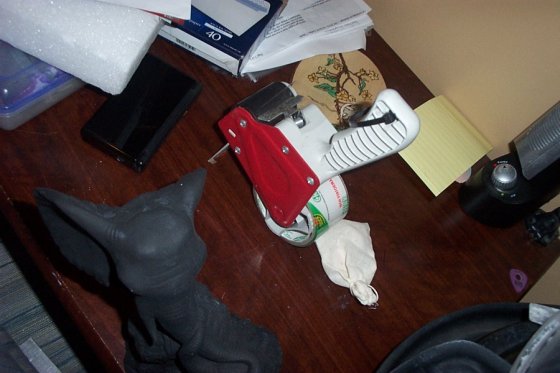 wonder who could have left it here?
The rules of the tools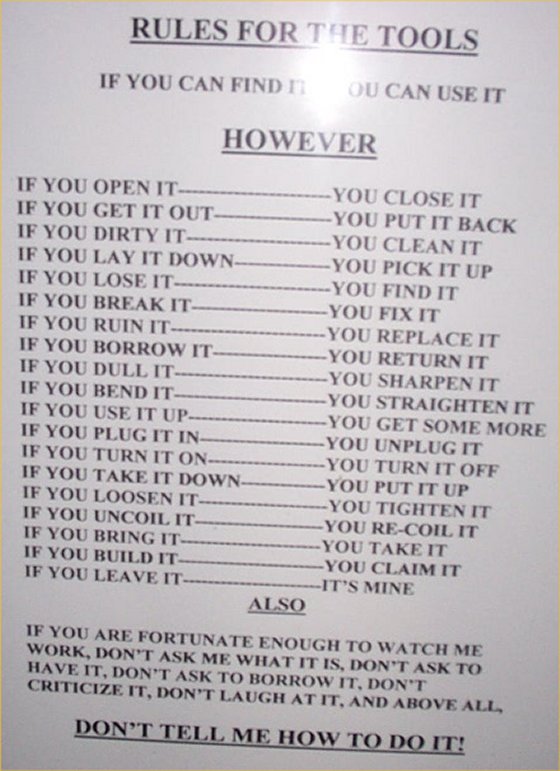 Now we welcome you to the main shop. Featuring the majority of the work stations we use on a day to day basis. HAL 9000 stands by the door "how are you today, Dave..."
The SOTW shop is also the storage area for most of our in stock items (big stuff goes out in the storage room). The red bins are just full of stuff you will love to get, so order away!
Shipping Station and HAL 9000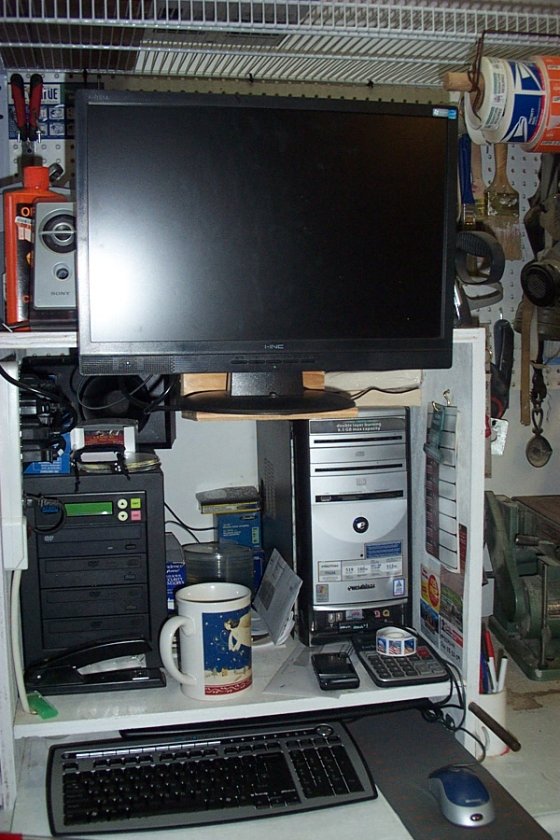 The photo below is the saw and router station. The orange metal chop saw is what I used when I got that metal splinter in my eye in Jan 08! Notice the goggles and ear protection there now...
fool me once...
Chop Saws/router/sander station
The Leatherworking Station includes most of my leather tools. Since I do a ton of stuff with leather now, it sits right at the main project table.
The leatherworking station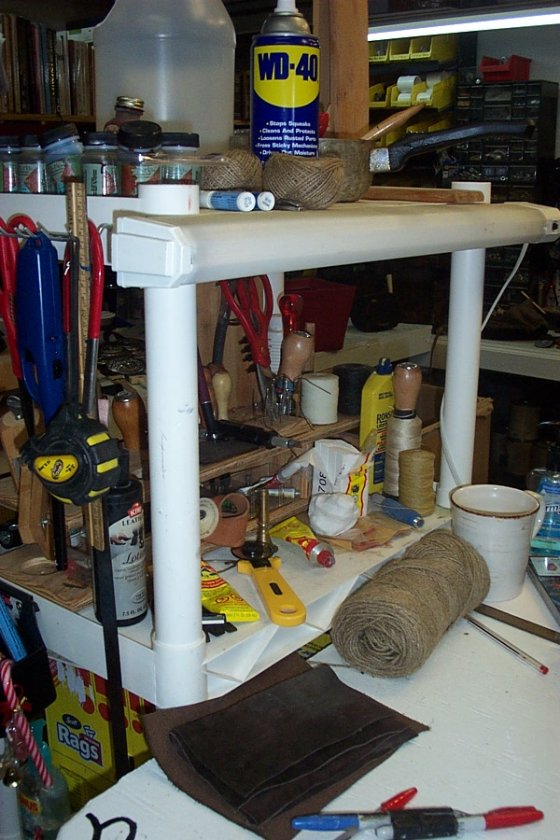 Below you see the main project table. This is where Ellen and I create, sew, and work on current projects.
The yellow bins on the right contain paintball parts and stuff. If you see a black bin (as opposed to Roman red) that means paintball stuff. they are hidden a lot, and much of the paintball stuff is in the storage room.
Main work table and hand tool/ rotary tool station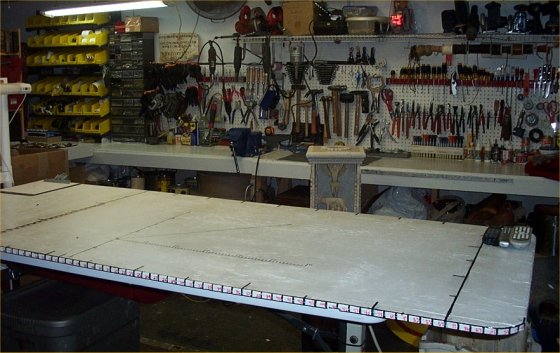 Roman Entertainment Center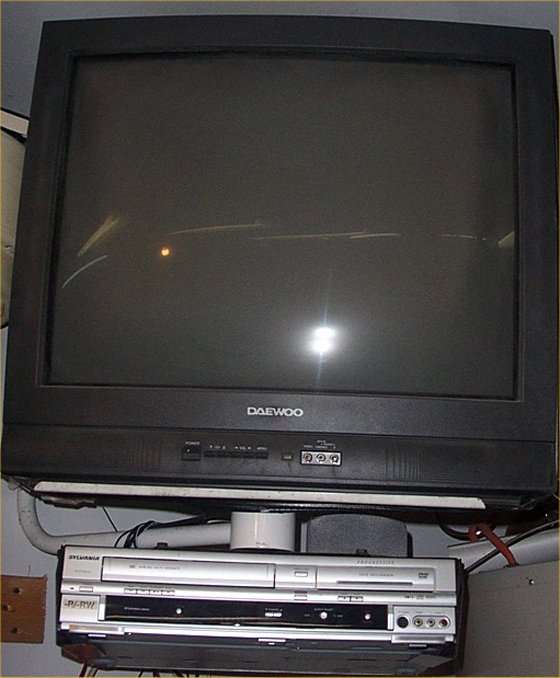 WE ARE NOT BARBARIANS!!!
Staining the new swords... Rusty in action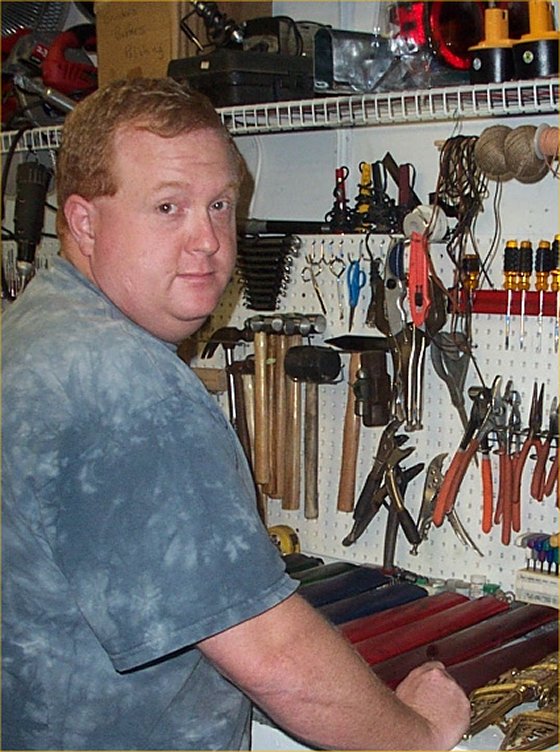 I have to go on a diet.
Machine Tool/ Lathe Station and Large Sander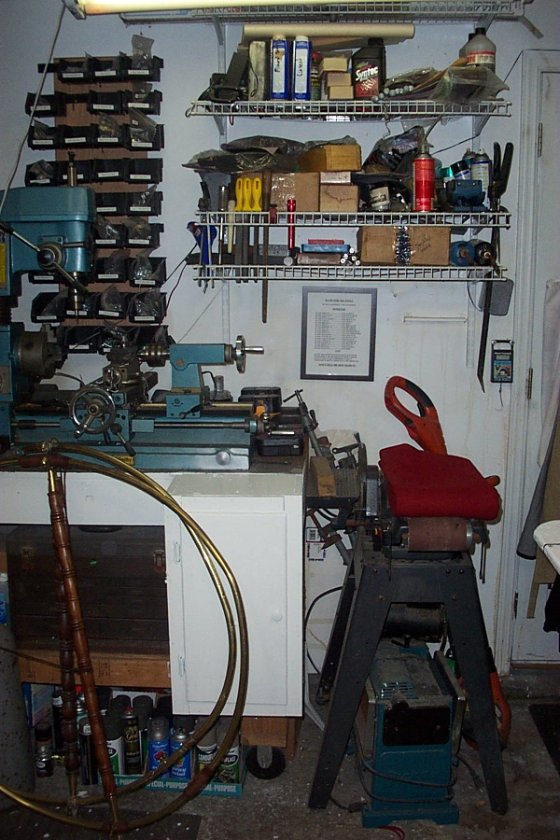 Inventory Station 1 Helms, Plumes, Souvenier Items
Also Shirts, SoldIer Figures and some more you can't see
Inventory Station 2 Small Items, Belts, Pottery,
Pugios and re-enactor incidentals
long Term Projects Table and Parts Bins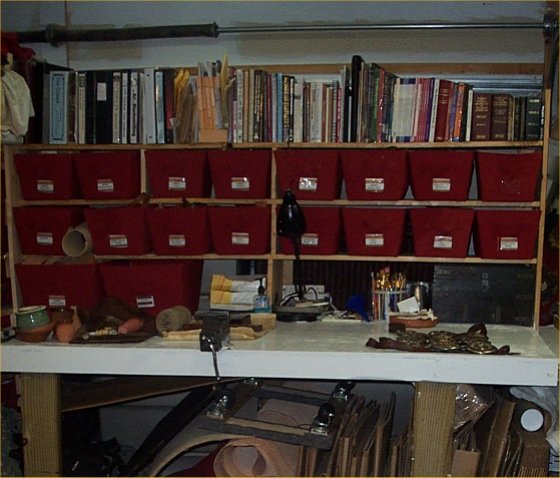 for repair/replacing small parts. Feathers, leather scraps, etc
Shipping Computer and main work table (center)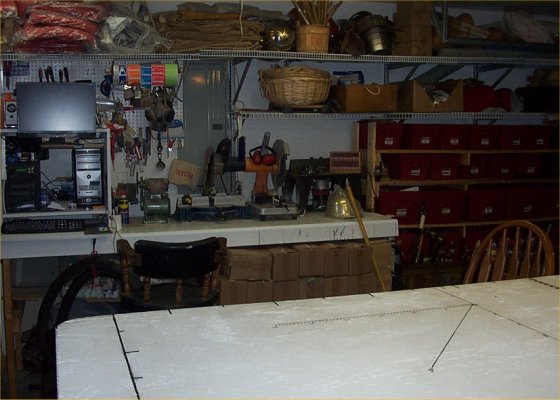 Drill and Band saw stations
SOTW's kiln for pottery firing
The LEG VI Hall of Fame!

Outside to the forge and blackmsith areas. We also use the outside table for spraying stuff that would kill us inside! The forge is a melting forge we use to make castings and such.
You can see our great big 100 pound anvil. We also have a 50 pound and 15 pound one inside, but outside we go large!
Smithy Table/Workbench
Melting Forge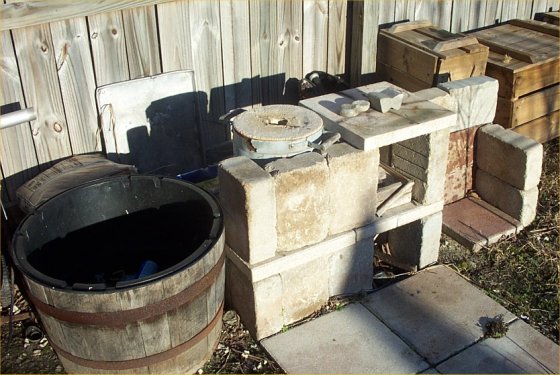 Storage Shed, actually pretty empty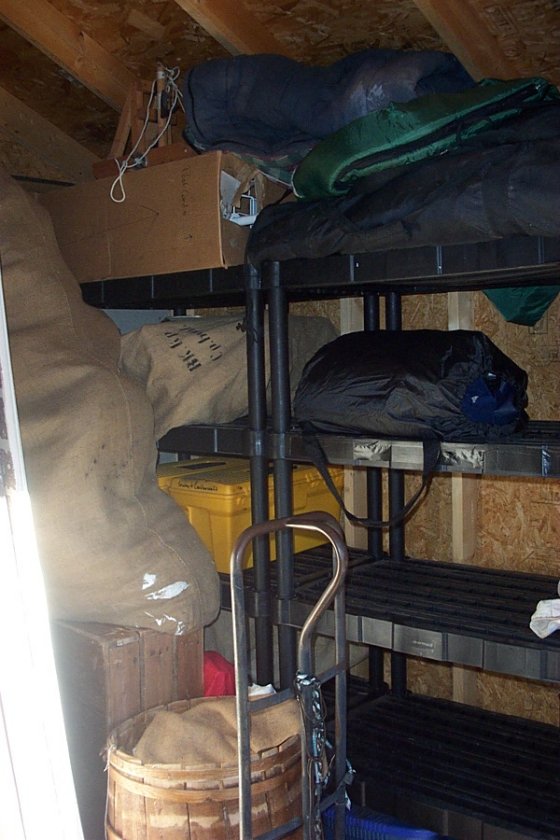 More storage... all that castra stuff has to go
somewhere! The trailer is full of stuff too.
Next a quick look at the nice offsite office where we keep all the big files stored and print stuff with the good laser printer.
SOTW Mainframe... where the magic is stored!
Did I mention all computers are evil?
Well, that is about it for the highlights! When we have fabricae's the men of Leg VI fill the space. If you want to stop by to work on stuff, just let us know. One day, we will take pretty pictures... but if you see all the coffee cups sitting around you will understand we were working hard!
Thanks for visiting! i can't believe you read all the way thru this thing!!!!!!!!!!!!!!!!!!!!!!!!!
Thanks for stopping by!