SCA Fighting Armor
For the Medieval Warriors of the 21st Century!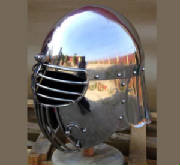 AH6927 Sports Bearded Bascinet (Stainless)
SCA Combat Authorized in Syainless Steel
$400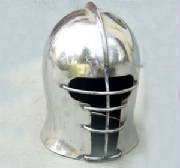 AH6915m Sport Barbuta (16g)
A Common Helm of the 16th C. Often worn historically without the "Buff" or face guard in place. Ours has two Buffs one more open for competitive sport fighting.Extra hooks and studs keep the Buff in place during sport fighting
$175
AH6915 Sports Burgonet
$175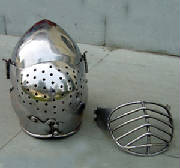 AH6916 Dog Face Helmet With Grill
This hand made SCA quality helmet is made by hand in 16 guage mild steel. It comes complete with a replaceable visor.
$370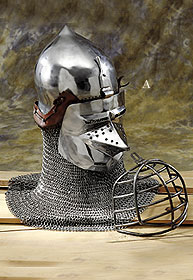 AH6911 German ''klappvisored'' Sports Helmet
A classic German Bascinet from the late 14th- early 15thC, original now in Coburg Germany.The "Houndskull" faceplate is historically original to this helm.
$370
AH6911W Wire mesh for German Sports Helmet
Wire mesh for German Sports Helmet
TBA