Viking Swords and Weapons
Weapons of the Norse Warriors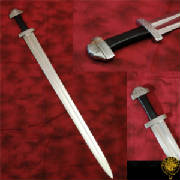 SH2408 -- Tinker 9th Century Viking
- Sharp
While not a direct copy of any particular sword, the Viking sword design was inspired by historical examples from the early 9th Century, most notably finds from the area around Trondheim, Norway, where the circular indentation hilt decoration was popular. The scabbards are provided with suspension points and a period chape, giving the sheathed sword a very attractive appearance. The construction of the Viking "pair" differs from other swords in the Tinker series inasmuch as they are tang-riveted(peened) in period fashion at the pommel, primarily to satisfy Viking re-enactment requirements, and the blunt blade design is very much directed towards re-enactment rather than sparring. However, as with the other swords in the series, replacement blades are available (OH2419, OH2420) and Tinker is offering a blade-replacement and re-peening service for users unable to undertake the task themselves. Again, the handling characteristics of the two swords are virtually identical. CAS has commissioned Michael `Tinker` Pearce to design a line of swords that will satisfy both the sparring and cutting needs of Western Martial Arts practitioners. Matching sharp and blunt versions of each sword in the series offer the same outstanding handling characteristics in both disciplines. The swords meet Tinker`s exacting quality requirements and are built in much the same way as his custom pieces. Made by Hanwei.
SOTW Price $415
SH1010 -- Godfred Viking Sword

Named for the feared 8th century Viking raider, our Godfred Sword is built around a beautifully patterned folded steel blade to replicate the pre-9th century originals. The interwoven leather grip, complemented by a Damascus guard and pommel, is matched by the leather-covered wood scabbard with bronze detailing and integral belt hooks. Superbly balanced, due to the deeply fullered distal tapered blade profile, the Godfred is a true tribute to the legendary Norse smiths. Made by Hanwei.
SOTW Price: $765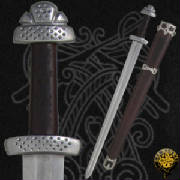 SH2296 Trondheim Viking

Hanwei continues to push the envelope with its forging capability in the Trondheim sword, produced as a one-piece forging in pattern-welded high-carbon steel. Patterned after swords that have been discovered in the area around Trodheim, Norway, the sword exhibits early ninth-century styling, a time when the Norwegian Vikings were pillaging Britain and Ireland. The beauty of the blade is matched by the grip and scabbard, both of which are wrapped in top-grain leather, engraved in a classic Viking motif. Made by Hanwei.
SOTW PRICE $850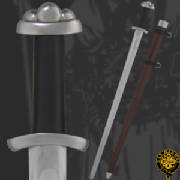 SH2047 -- Practical Viking Sword

The Practical Viking sword is based on our Godfred sword, whose design originated in 9th century Scandinavia. The lobate pommel and down-turned guard are typical of Viking swords of the period, as is the broad blade with its deep, full-length fullers. The sword is well-balanced and, with a weight slightly over 2 lbs., it is very quick.

Our Practical broadswords are all based on authentically styled swords in our collection but they are tailored to meet the needs of re-enactment and stage combat. These very popular and affordable weapons feature authentic hilt styling, with fully tempered un-edged and un-pointed blades. They are designed to withstand rugged use while providing the level of safety required by many of today's re-enactment societies. The blades are crafted from 1065 high-carbon steel, hardened to 50HRC, which restricts edge-notching to acceptable levels while providing resilience and protection against brittleness. While the blades are substantial, they are fullered to provide balance and good handling characteristics. They feature 1/16" wide edges and rounded tips for safety. The tangs are also substantial, with radiused corners at the blade shoulders and no welds. The end of the tang is riveted over the pommel, which both eliminates any possibility of inadvertent disassembly and provides a traditional means of tightening a loose hilt. The hardwood grips are leather-covered. The scabbards are fabricated in glass-filled resin, to provide great impact resistance, to eliminate swelling and to minimize blade corrosion problems. The scabbards now feature belt rings that adjust to allow vertical or horizontal carry. The wood-grain finish is attractive, but most re-enactors will decorate the scabbard to match their persona. Made by Hanwei.
SOTW PRICE $160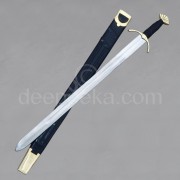 AH3378 Korsoygaden Viking Sword
Viking sword from around 1100 AD. Made by Deepeeka.
SOTW Price: $135.00

AH3379 Viking Sax
The Viking Sax is typical of the single edged knives used throughout Europe in the Dark Ages. This version is 24 inches long and practically a short sword. The Sax or Seax was made in various sizes, the longest ones evolving into single edged Viking swords. Features an unsharpened carbon steel blade with a full tang design and hardwood grip. Includes a leather belt sheath. Made by Deepeeka.
SOTW Price $67.50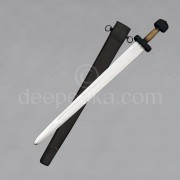 AH3146 Viking Sword
A simple Viking sword, great for your warrior impression.
$142.50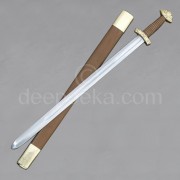 AH4101 Viking Sword
Another Basic Viking sword, by Deepeeka.
$132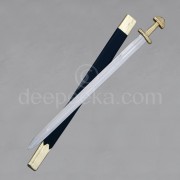 AH4102 Norwegian Sword
A much later piece around the time of the formation of Norway. Great for your Scandanavian Soldier impression!
$132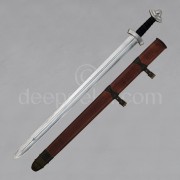 AH6952 11th Century Viking Sword
A Viking sword from the time of the Crusades, a great piece for a Norman Knight.
$172.50
AH6956 Norman Sword
Follow William the Conqueror into battle with this one! A great piece for your Norman knight impression.
$172.50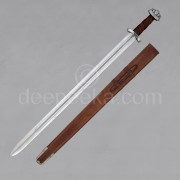 AH6963 Five-Lobe Sword
Looking to go above just a basic warrior impression? This Five Lobe sword is great for your well-off Viking Warrior!
$172.50
AH6965 Viking Temple Sword
Follow the Crusaders into the Holy land with this one, or rescue the Balkans with the Varangian Guard! The Viking Temple Sword is great for your European Warrior Impression.
$150.00
AH6966 Godfred Sword
Your Viking Noble Impression isn't complete without this! Features a Triple-Lobed Hilt and is great for your later Viking impression!
172.50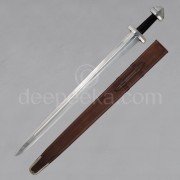 AH6967 Hersir Sword
A later piece, great for your Scandanavian Warrior impression.
$172.50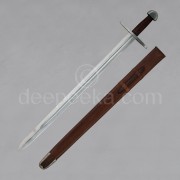 AH6968 Norwegian Sword
This blade is a later Norwegian piece, great for your 13th or 14th century Scandanavian warrior impression!
$172.500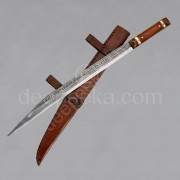 AH4171 Beagnoth Seax
The seax was a long knife invented by the Saxons around the 3rd Century AD. This piece dates to the 9th Century, and is perfect for your Anglo-Saxon or Norman warrior impression!
$93