Roman Outerwear
Animis opibusque parati
Prepared in minds and resources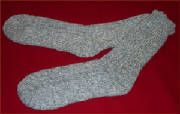 SOTW Wool Socks
Perfect for cold weather operations, these wool socks are a light grey/off white weave with enclosed heel and toe (they will accept RIT dye to change the color). These can be cut an hemmed to be toeless and heel less if necessary. There is some elastic in the tube part that prevents stretching out. Look great for nearly any period. Wool retains its warmth even when sopping wet, so in cold or wet weather these are worth their weight in GOLD... We are only charging $9. Order them BEFORE the snow falls on your Castra!
$9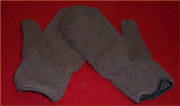 SOTW Wool Mittens
We know the Romans had some form of mittens or hand coverings for cold climes. There is even a picture of a simple fingered glove from the Empire. These are simple wool mittens, as plain as we can find them. We cannot say they are perfect, but they are better than frostbite!
$8.00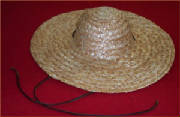 SOTW Petasos Straw Hat
Perfect straw hat for civilians or for soldiers wih "Imperial Italic Pattern hair loss". Based on an earlier Greek design, this simple straw hat was seen in sculture and art throughout the Greek and Roman period. We add a simple leather tie to keep it on your head or tie down the sides. A great addition to your kit!
$10.00
SOTW NEW! Sagum Cloak
Simple Roman Sagum cloak. 80*60 inches 80% wool fire resistant. Whip stiched edges, very warm. Great deal. Dark brick red, Navy Blue, or Forest Green (not OD!), or dark grey. Check with us for current color availability! MUCH heavier than our older sagums!! You won't need three of these at Clash of Iron! Also limited supply of earth tone plaids for our celtic brothers! Purchase them for your unit, and contact us for bulk pricing.
$75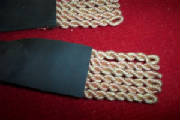 SOTW Cotton Pterugi Fringe
We finally found an all cotton pterugi fringe for your officer impression or for your vex! All cotton is as period as we have found so far and a great improvement over the synthetics we have had to use over the years. We have a limited amount, and it is priced either by the foot, a special 18" Vex length and by the yard. Fringe is a medium gold tone with a red embellishment thread (see pics). Very nice! And we are even able to give a good price on it! Click the picture for detailed photos!
$5.00 per foot
SOTW Custom Leather Subarmalis
The Custom made SOTW leather subarmalis is based on the one designed by Centurio Longinus of Legio VI FFC. The leather is vegetable tanned, as are all ties and pterugis. It accepts oil or dyes easily and readily. Sticthing is done in a waxed white thread that will hold up to abuse. The standard model shown includes velcro'd pterugis to make them removable (they can also be sewn in easily as an option. We find that the subarmalis can be used for different impressions if the lower pterugis are removable, but that is up to you. The leather draw string in the back insures a tight fit. As for the look itself, Centurio Longinus went for leather ties in front reminiscent of a lorica segmentata ties, and the overall look of the jerkin is of a leather Hamata. It looks great under armor, or by a chilly fire. As for authenticity we do not have a "based on" model, though we know the Romans had them, the entire piece must be clasified as conjectural, but I think you will like it! They are individually sized to you and some variation on the design is easy to accomplish. Price as pictured is $300. Time frame for delivery is 3-4 months (probably less, but plan to wait please!).
SOTW Custom Subarmalis $300
SOTW Subarmalis Our linen Subarmalis is padded can be custom fitted to you by size, length, number of pterugis, etc. Padding will be wool (the protoype pictured has a foam padding, 2 are available at a reduced price! You cannot see the foam). Machine sewn white dyable cotton is great for a senior officer or centurio impression.
Custrom ordered: $250
SPECIAL: Foam Padded Prototype $175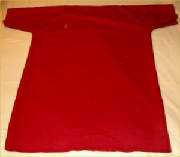 SOTW Tunics
Hand Sewn, Exposed Seams hand sewn, and Machine Sewn
The Soul of the Warrior hand sewn tunic is a new addition to our Brutally Authentic line of merchandise. Made of a incredibly tight woven wool fabric or 100% Linen, and sewn either completely by hand, exposed stitching only or we will machine sew them. Either way these will be an excellent addition to those who desire hyper authentic kit. The Completely by Hand models have no machine stitching at all! Exposed Strching models have some machine sewn stitches on areas that are not visible (IE Inner seams). Both are extremely well made. The wool fabric does not fray and is simply some of the best wool we have seen! It is not felted and is genuinly madder died! There is a very tight pattern to it, that does not show up in the photos. We use a natural linen color on the thread to make the stitches show up better, or we can do them in the thread color of your choice. NEW!!! Now available in THIRTY COLORS of linen!! Color fast linen is 5.3oz/yd weight and is 100% linen. Size can be tailored to your measurements or preferences. Also available with and without sleeves. Overall width can be as much as sixty inches for wool or fifty nine for linen. You will not be disappointed! Go to the photo essay page to see the color chart.
Other wool colors may be available. Please inquire if interested. These are made as ordered, by re-enactors, for re-enactors. Please allow 3-4 weeks for delivery.
Color recommendations: We get a lot of folks asking what color they should use when selecting from the linen chart (click on the tunic to go to the photessay page to see the chart of Linen Colors). Here are the basics:
Optic White: Good for a toga undertunic
Wild Cherry: Perfect color for tunic stripes
Crimson: Bright Red Tunics for Soldiers
Firecracker Red: A little TOO red
Vineyard Green: Great for auxiliary tunics
Redwood: Great muted red for Soldier tunics
True Blue: Great for Marines or Auxies in Blue
Kenya: Great "Brick Red/Brown" for soldier tunics
Emerald: Great for Auxies
Crown Blue: Great for Auxies/Marines
Krista Natural: Good if you want a natural undyed linen look
Tunic- sewn Completely by Hand Model $200
Tunic- Exposed seams hand stitched $110
Tunic- Mahine Sewn $75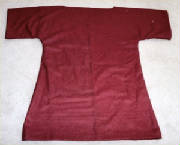 AH6016 Wool Tunic
Machine sewn wool tunic with nice herringbone weave. Newer models have short sleeves too. Only avaiable in red at this time. Well made. One size fits most.
$75 (note: these are way backordered... suggest you order one of our hand sewns.)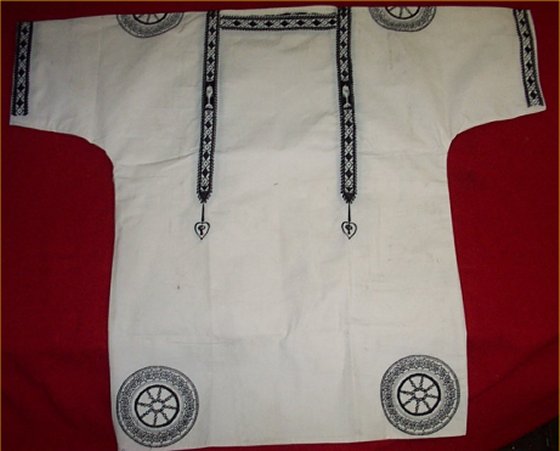 SOTW Tunica Mancata Our Tunica Mancata is a later Roman tunic with manchine embroidered clavii and designs in true Roman style. We have then in Linen with black thread in inventory, other threaqd colors available by special order. A great new addition, perfect for feasting or wandering an event as a civilian.
We have up to a 48 chest in stock in Black, Red, or Blue Thread!!.
Regularly $170
ON SALE! $140!!!!! Save $30!!!
SW035SG Fascia Ventralis (Waist Sash)
Made of thin high quality grey wool. 11 inches wide and 100 Inches long (Some variation), this waist sash will protect your Brutally Authentic (or other brand) tunic from your balteus. 100 inches will easily wrap around a 50 inch waist 3 times with room to tie and spare! Wool is prewashed and pre-shrunk. Danglies on the end can be cut off for the neat look, but look great dangling by your side too. Very inexpensive for the quality and amount of wool involved. We have a limited supply.
Fascia Ventralis
$30.00

SW031SG Wool Focale
A simple and basic inexpensive scarf. Grey or grey green in wool. If find them a bit itchy, but a great value.
$20
Drawstring Cotton Braccae Pants
These 100% cotton drawstring waist pants fit sizes 28" - 50", just like the olden days. Whether you wear them loose, wrap the legs with cord or stuff them in your boots, these pants go with most period outfits. One size fits most; also available in XXL (fits up to 60"). All sizes are approximate Choose from Black or Brown. Rusty keeps a pair of these in his kit box himself!!
$39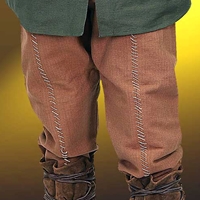 Cotton Brown Braccae Pants w/ Decorative Stitch
From The Legends of Sherwood come these comfortable Locksley pants. Made of durable heavy 100% cotton, they have the same period style for many times and have an elastic waistline, allowing for an easy fit. Front features a natural linen colored decorative stich adding a little extra oomph to your impression. S/M, L/XL and XXL (add $5). Brown only.

$45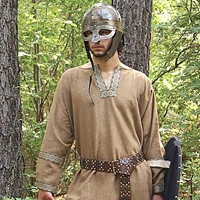 Tan/Brown Wool Tunic
These are the finest viking/Roman tunics we have ever offered. Made from 100% wool, the rich fabric is heavy and accurate to the period.The sleeves, collar and hem are accented with a thick Nordic design trim. An authentic addition to your Viking wardrobe. Dry clean only. Sizes S/M, L/XL and XXL (add $4.00).

SOTW Notes: These really are excellent tunics! Great around the fire at Roman events for "off duty" wear. Very nice non-felted wool too. The trim can be removed to romanize them even more.
$69
SOTW Pin style Fibulae
A simple polished iron fibulae. Perfect for your cloak, paenula, or even one of our blankets. Well made and properly curved as originals. Inexpensive, and you alwasy need a few extras, as nothing gets lost like a Fibulae!
$5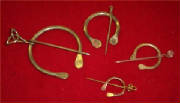 SW097TL S,M,L,XS Fibulae
Hand made Paenanular fibulae. Perfect for the heavy wool overgarments of the Romans, or convert your blanket into a makeshift cloak. These are handmade and every one is a little different. Excellent kit, and Brutally Authentic!!
Heavy duty brass!
$10.00
SOTW Crossbow Fibulae
Now authentically recreated brass crossbow Fibulae from SOTW! Has a steel spring/needle with brass body. 5 cm by 2 cm in length overall, 32mm pin attachment. Great for a Late Roman Impression! Brutally Authentic!!
Introductory Price: $15!
or buy two for $28!!
SW029DP Arming Cap
Cotton linin fabric over cotton padding designed exclusively for our Roman helms. does notcome down around the ears like medieval arming caps. Washable. A Great addition to your helm.
$15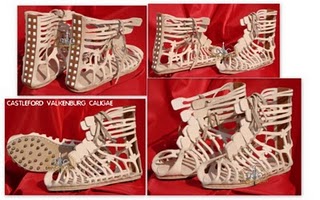 Castleford Valkenberg Caligae
The famous DSC Castleford caligae are perhaps the best off the shelf caligae on the market, now available from SOTW! Vegetable tanned leather uppers, thick soles, proper roman conical hobnails, and great reviews by all who wear them! Order by US WHOLE SIZE, and I recommend going one size smaller as they tend to run a little big and leather stretches. Some sizes in stock, but other may need to be ordered. Email me to check on that.
Rustyatrpg@aol.com
. These or the Mainz below are the caligae to have for the accuracy minded reenactor. Whole sizes 6-12. Costom orders are possible.
$100
Mainz Caligae
An excellent example of a typical caligae with a classic cut! Natural vegetable tanned leathers, thick soles hobnailed with proper Roman conical hobnails! We recommend either these or the castlefords (above) for all the reenactors in our unit. Durable and solid kit that will last for years. Waterproof with neatsfoot. Order US whole sizes 6-12. Some sizes in stock, others may have to be ordered. email me at
rustyatrpg@aol.com
to inquire about specific size availability. Special order sizes are also available. Order by US WHOLE SIZE, and I recommend going one size smaller as they tend to run a little big and leather stretches over time.
$80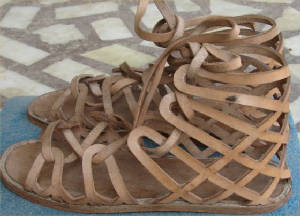 SOTW Greek Sandals
Veg tan leather with unhobnailed soles for the Roman or Greek civilian! Beautiful cut out work. Specify size. Made to order, so allow some time to recieve yours. For additional details, (or to inquire on inventory, as we do have some in stock) email us at rustyatrpg@aol.com.
$90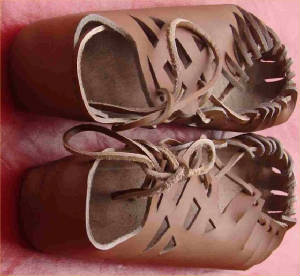 1st Century Germanic Carbatinae
Soft leather shoes that are from Germanic finds but work with any ancient barbarian people. Germanic, Gallic, Celtic, Briton, and many more. These are usually made to order, though we have some in inventory. To order, shoot us an email at
rustyatrpg@aol.com
and we will check sizes and delivery times.
$60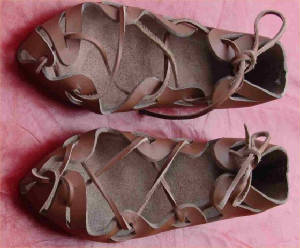 SOTW Roman Carbatinae
Civilian slippers made of soft leather and soles. These are patterned off a find from London and are a more "Roman" variant than the similar Germanic Carbatinae. These are made to order, so please email us at
rustyatrpg@aol.com
to check current inventory and delivery times.
$60
AH3872 Caligae
Very nice caligae made by Deepeeka. Economical and sized (they run a littl ebig, order 1 size smalle rthan normal). Stiches are machine done. Simple hobnails in the sole. Leather s vegetable tanned, and they hold up very well in the weather.
$87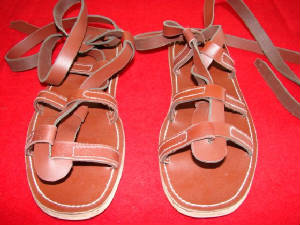 AH3874 Greek/Roman Sandals
Another simple sandal for period Roman, Greek or barbarian civilians.
$70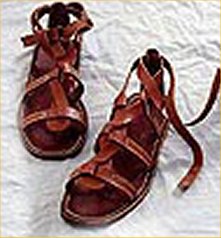 AH3873 Greek/Roman Civilian Sandals
Simple design suitable for Greek or Roman civilian impressions. Same quality as the Deepeeka caligae. Quite nice.
$70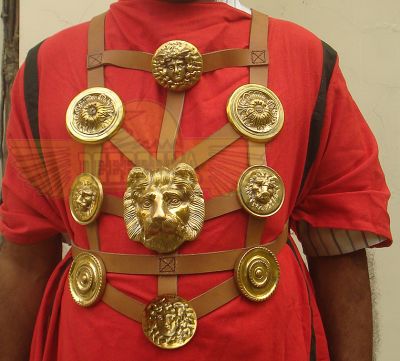 Phalarae Harness
Our phalerae harness has nine discs, eight surrounding a large lion head at the center. Inlcudes the leatherwork and adjustable buckle. Great price foer your centurio impression. These are cast and not hammered, and aluminum was used to save weight but have the look of iron. Also available in brass. Top and bottom medusa's for protection. Lions representing bravery and courage, and floral motifs round out this new offerring!
White metal $230
Brass $315.00