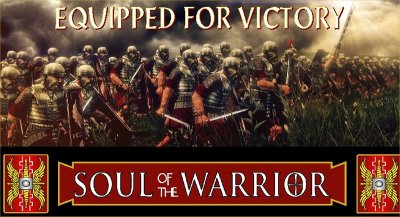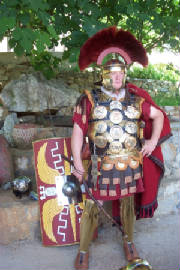 Welcome to
Soul of the Warrior
Soul of the Warrior LLC is a part time company venture run by dedicated Re-enactors, for Re-enactors! We are determined to supply Re-enactors of all periods, especially Roman Era Arms and Armor with quality stuff at reasonable pricing. We do not make a lot of money off this... almost all proceeds are used in research and development or events.

SOTW carries Deepeeka, Daniyal, Al Hamdd, Panther Primitives, Westair, CAS Iberia, Hanwei, Denix, United Cutlery, Rite Edge, Schrade, Hibben, Columbia, Museum Replicas, Atlanta Cutlery, SZCO, Ideal, and GDFB in addition to our own Brutally Authentic line and products made by fellow reenactors! If you don't see it, we can get it!! We are often able to answer your specific questions about durability, authenticity, improvements, and options on much of our Roman gear as well as dispel myths and misinformation on the Roman world! We are not always the quickest shipper (in fact we tend to be slow), since many items are custom made for you, and a wait may be involved as we have day jobs and do this for the love of the hobby, but we do DELIVER! Please email me every month about your order if you haven't received it, so we can be sure it is on the list and ships when available. Thanks for your patience!
Please be sure to review our policies page so you understand who we are and what we do before you order. We have stuff from 4 different continents made for us, so things can be slow. We do not give out arbitrary delivery dates! This can be frustrating for the buyer, but we simply have been burned to many times by our suppliers on delivery dates to create an artificial expectation for you! We are slow, but we do deliver!
SOTW has online ordering thru the shopping cart, which accepts all major credit cards, or you can Paypal, phone in, snail mail, or fax your credit card order direct to us! We accept all major Credit Cards, Personal or business Checks, or Money Orders. See our order page for details! Please review the policies and procedures prior to ordering, particularly on custom orders.

Whatever your period of interest, you will enjoy browsing the site, and you may even learn something too! We want you to have access to economically priced re-enacting gear as well as our SOTW signature custom paintball gear, and to that end we have formed one of the most interesting sites on the net. Please take a moment and review our "How to Order" and "Policies" page before ordering, and be sure you understand how we work. Many of our products are hand made by re-enactors here and overseas, by us, or from overseas suppliers, and delays do occur. Stick with us, and you'll love it! Peruse the site. Hopefully you will learn a little as you surf. Thanks for your interest, and remember:
The Sword is the Soul of the Warrior!!
Centurio Justus Rustius Longinus
LEG VI FFC COH I CENT I ITAL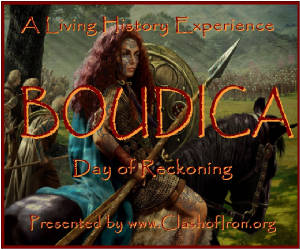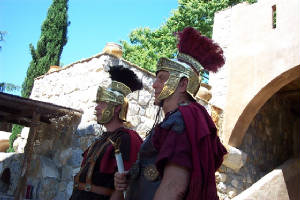 Leg VI and XI at the Explorations in Antiquity Center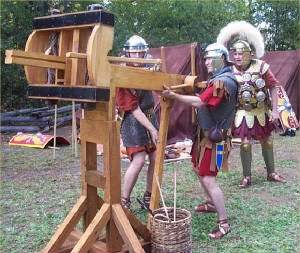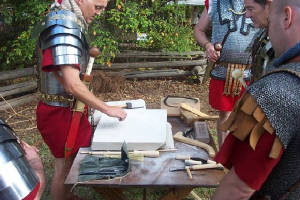 SOTW NEWS (Feb 15):
We have received a big shipment of our SOTW Brutally Authentic Merchandise! First, some new stuff: Net Bags, Small burlap bags, Centurion Belts (Facilis), Gourd Canteens, Pera, Commacchio and Vindolanda bags, Late Roman boot kits. Next, some old stuff that's BACK: Large Burlap sacks, Celtic shoe kits, wooden plates, horn spoons, knives, linen bags, gladiator tokens, period coins, slings, sling bullets. And finally, stuff that is just back in stock: Magnus Gladius (wood and Bone Handle), Militis gladius, Titelberger Pugios, Oberaden Pugios, Late Roman Torc, Ram's head torc, armillae, paenanular fibulae, pin fibulae, metal canteens, leather water bags (soft), hard leather water bottels, Gourd Bottles, Wolf and Twins Belts (Oberstimm), and Circle Belts (Rheingonheims), Heavy wool blankets in a multitude of colors including Celtic plaids, Straw hats, wool mittens, wool fascis ventralis, wool focale, linen tunics, leather subarmalis... and more. In short, almost all our SOTW stuff is in... Coming ins a week or two: Baldrics, Pateras, Knives, wax tablets, papyrus, biblos, papyrus letters... Basically the lot of it. Finally back in stock. Backorders going now. New orders filled as received (well, gimme a few days to do the backorders!).
Adding the new stuff to the website... Stay tuned!!!!!
SW004 Facilis Centurion Balteus (NEW)
NEW Hand made Roman Net Ration Bag
RPG Paintball Specials!